Team ecofort
The vision of ecofort is that people can maintain or improve their standard of living without using more energy. Ecofort ag is your partner in Switzerland for reliable and efficient products for a better and easier life. Learn more about our mission and our values ​​in the ecofort mission statement .
Ecofort is committed to provide customers with products of the best possible quality. We have defined our own internal quality requirements and only sell products that meet all these requirements.
Our team will help you select the most effective and energy-efficient product to meet your needs, so you not only save on your purchase, but also have the lowest energy costs possible for a long time.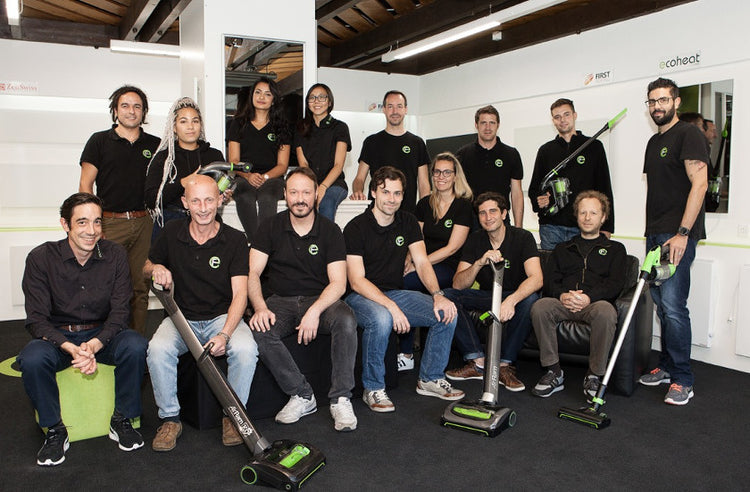 Thierry Graf

I like to keep an overview. That's why at ecofort I take care of linking our various work areas so that we can ensure smooth operations. Your expectations of our products and our customer service are just as important to me as the well-being of our employees.

Sami Nsibi

Junior Business Informatics Specialist

My career at ecofort began many years ago as a technical consultant and led me to set up the technology department. Over time, I began to automate our internal processes and understood my fascination for processes and technology. Called by this fascination, I started studying and today I continue to actively support the company as an interface between business and IT, albeit without a screwdriver.

Fabian Nussbaumer

We are just getting to know Fabian...

Jasmin Guldimann

We are just getting to know Jasmin…

Etienne Kuhn

Business Development Manager

We are just getting to know Etienne...

Dominik Seliner

As a senior computer scientist, I mainly deal with the development and implementation of new applications to optimize internal and external processes at ecofort. The integration and connection of the various systems we use challenge me on a daily basis. But the big motivation is to make sure that the online stores work flawlessly and that you as a customer can experience the most pleasant online shopping experience possible.

Mark Tugendlieb

More than seven years ago, I founded ecofort together with Robert. It's great to see how the company has developed and especially how the team is constantly growing. I am mainly responsible for marketing, purchasing and the smooth operation of the online stores. I get the best ideas on the tennis court or while jogging along the Aare.

Sacha Cura

FIFO is not the name of my dog, but describes one of the basic principles of warehousing: what comes first into the warehouse is shipped first. As a trained logistician with a wide range of experience, I ensure order and clarity in the Nidau warehouse at ecofort. Processing incoming and outgoing goods is just as normal for me as correct stock levels. But if there are differences, I can quickly become a growling dog. Grrrr!
Cegen Woldeiesus

We are just getting to know Cegen...

Harry Leiser

We are just getting to know Harry...

Carina Bucher

We are just getting to know Carina...

Muriel Palermo

Consulting & Customer Service

We are just getting to know Muriel...

Patrick Hänni

Consulting & Customer Service

Your problems are in good hands with me. From fuels, country products, foot care products, toys and plastic sheets to agricultural machinery, software and hardware and watches; I have already been active in many industries. With this diverse experience in my backpack, I try to find a good solution together with you - I am looking forward to our cooperation!

Fabian Gerber

Product & Brand Marketing

As a career changer with musical training, I have found creating and maintaining product sites to be both a creative and analytical activity. The challenge is to make websites that deal with rather less spectacular products interesting, informative and functional.

Andrea Dettling

After I completed my commercial apprenticeship here, I wanted to stay at ecofort for a while because I liked the working atmosphere so much. I didn't expect to take over as head of administration after only two years. I couldn't and wouldn't turn down this offer and continue to enjoy being part of this young team. The friendly interaction with customers and the ecological awareness of the company are important to me.

Aurora Murtaj

As a passionate soccer player, I like to stay on the ball. At ecofort I have the chance to complete my training as a businesswoman in a modern environment. This way I learn how to handle current communication and information tools in order to process your order accurately. In my free time I also like to store with friends and enjoy time with my family.
Jean-Daniel Pessina

Head of Consulting & Customer Service

Perhaps it would be a bit of an exaggeration to say that I am a true jack of all trades. But I have done and tried a lot of different things in my life. My start was a bank apprenticeship in Geneva, after that I dealt with watches, carpets & fire extinguishers, traveled all over the world for sports timing and even founded a company on Costa Rica. I am now happy to be working as a consultant at ecofort ag, where I enjoy the direct contact with our customers and employees and can use my language skills every day.

Mei Ling Wong

Wongs are a dime a dozen, but me only once! After studying computer science for a long time, I am happy to expand my knowledge & skills at a manageable company like ecofort. I like the familiar and pleasant working atmosphere in our team; ideal to learn something new every day. To relax from the daily bits & bytes, I like to go outside to take pictures or bake myself some delicious food in the oven.

Robert Aeschbacher

Together with Mark, I realized my dream of owning my own company more than seven years ago. Since then, ecofort has grown constantly and employs over 15 people. I am responsible in particular for marketing, purchasing and our business relations. In windy weather, you can reach me on the move while kite surfing on Lake Biel.

Andreas Hinni

Member of the Executive Board: CFO

My world is accounting. Where others can no longer see the forest for the numbers, the fun begins for me. What I like best are complex annual financial statements and punctual payments. But don't worry, I don't bite...

Fabio Sansoni

Ich bin eine lösungsorientierte und hilfsbereite Person mit einem starken Fokus auf Kundenzufriedenheit. Ich verfüge über umfangreiche Erfahrungen mit verschiedenen Detailhändlern, die es mir ermöglichen, die beste Lösung für Sie zu finden. In meiner Freizeit widme ich mich leidenschaftlich der Fotografie, dem Design und der Informatik, wobei ich Momente festhalte, kreative Gestaltungsideen entwickle und gleichzeitig mein Wissen in diesen Bereichen vertiefe.

Andreas Groner

Wir lernen Andreas gerade kennen...